On the Sunday 8th of November 2020 several activists from different regions of Mauritius gathered at Bain de Rosnay in the north-eastern part of the island. Bain de Rosnay is this part of coastal region that faces Bernache and Ambre islets with an exceptional marine biodiversity. Indeed, all over mangroves, that harbor intra-lagoon marine life, can be seen and non-intensive touristic activities have preserved the lagoon from different forms of natural alteration like it is already the case in nearer regions.
Apart from being a rich ecosystem, this part of the island is also the preferred spot for local inhabitants and the landing station (débarcadère) is widely used by fishermen and boat owners of the region. Since 2017, when inhabitants from nearby have learned about the property development projects by real estate corporate ENL, they've made sure that access to beach and landing station remains the same. If the latter have been saying that they are not against the property development project, they have however stated that they will stand against all alteration of what have been public so far. Thus, as well as being against the obstruction of public access they are also against any so called 'upgrade' of the existing landing station. Inhabitants perception of the alteration of the existing station is that it is a disguised way of real estate agency to alienate locals. Moreover, the luxurious villas and apartments projects aim at granting unlimited access to the landing station and locals rightfully fear the excessive use of powerful yachts in the lagoon that will disrupt existing ecosystem. Jérôme Lafrance, a local fisherman that is a native from the region states that locals have always known this coast like this, they like it that way and they have all the rights to defend that stand against any interference of any sort. The nearly completed St-Antoine Private Residence | Mauritius aimed at rich foreigners has already set the tone in their online brochure; "Easy access to the nearby jetty will provide unlimited entry to the ocean and all that it offers, while the fully managed boat yard will give owners peace of mind that their craft will always be well taken care of."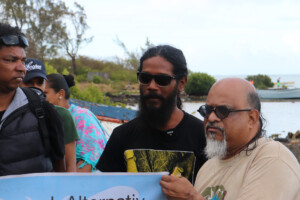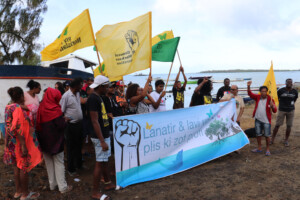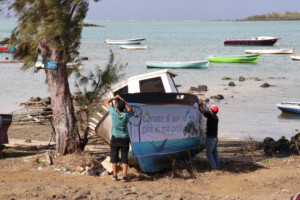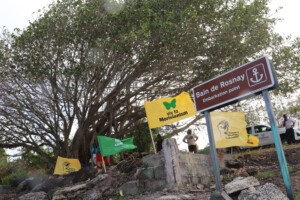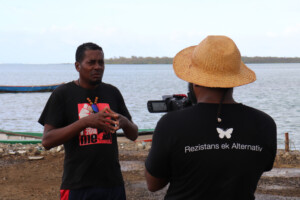 If 2017 mobilisations with the support of ecologists from several movements including the ecosocialist party Rezistans ek Alternativ have succeeded in containing any attempt from ENL in grabbing the coastline and alter the landing station. However, recent moves, witnessed by local fishermen, have set off alarm bell of the locals over new attempt of coastline grabbing by estate agency. It is in that perspective that the several activists and ecologists including the ones from Rezistans ek Alternativ gathered around locals and fishers to take cognizance of estate property development work and to give a severe warning, to what Ashok Subron calls the 'billionaire grabbers', against any attempt of disrupting public access and alteration of coastline. Sea people from Trou d'Eau Douce and Mahébourg much affected with the recent Wakashio oil spill were amongst the demonstrators.
Coastline grabbing and marine ecosystem disruption for real estate and touristic activities are among main social discontents since recent years. Indeed, the new venture of local capitalist elite with the end of the sugar protocol is real estate. With a country already over saturated with resorts and hotels, it is now the left coastlines that are being the target of property development with successive governments more and more lenient in granting leases and authorisations for coastline grabbing. In some cases there have even been highly contested withdrawal of 'public beach' status of popular beaches for private projects.
For the time being, in regards of Bain de Rosnay, the protestors are on their guards and are warning promoters against any attempt of grabbing and alteration of the coastline. If need be, in the latter's own words, they will be removing any obstruction like they did in the southern part of the island and will intensify the movement.